Dragilor
dupa congres se va organiza in paralel cu event-ul cel mare CQB din sibiu si un concurs de tragere rapida la tinta .
Iata regulamentul si conditiile de participare:
Formularul de inscriere poate fi gasit aici:
http://6mm.ro/6mm/arhiva/tapss_sibiu_1_formular_inscriere.html
Enhanced Tactical Airsoft Pistol Speed Shooting (TAPSS)
Primer for 1st Time Practical Shooters.
Why Practical Shooting?
So you want to know why you should try Practical Shooting?
1.) Because it's fun: The number one answer I prefer to give is the simple "Because it's fun" NEARLY every single person that has attended one of my TAPSS events has had a great time, regardless of what their final standing was at the end of the day. But the "Because it is fun" answer is not one that can be backed up with reason or facts.
2.) Weapon Training and Tactical Movement Training: Practical Shooting is the best method to train you how to USE YOUR WEAPON in a tactical setting. People may think they know how to use their weapon properly, they may think that training in the skirmish field is enough. But to truly know you are improving on your weapon handling and accuracy skills, you need a setting that will allow you to MEASURE your improvement. Practical Shooting provides this ability to measure, beyond a shadow of a doubt, if your skills have improved, or if you need to work on them more.
In a live skirmish setting, your targets are unpredictable, your environment is unpredictable, and your own team's actions, whether you like to admit it or not, are unpredictable. It is this level of unpredictability that makes you unable to truly know if your WEAPON HANDLING and ACCURACY are up to the par you SHOULD want it to be.
In Practical Shooting, the course remains static, the environment is controlled, and the timers and targets don't lie. In a single event, you will be able to track, by means of your scores, your level of improvement from start to finish. In the next event, while the course layout has been changed, you will be able to again know, from start to finish, if your skills have improved. Once you've been doing Practical Shooting for a while, you may finally get to the point that course layout changes don't effect your initial score of the day as much as it used to. When you get to this level, you will KNOW that all you need to work on is your own weapon handling skills.
3.) Safety: Practical Shooting also helps gun safety become second nature. Indeed one of the primary reasons I like Practical Shooting is because it has made my gun safety awareness increase ten fold.
4.) Friendly Competition: Practical Shooting is currently the ONLY method by which Airsofters can truly compete with each other. By it's nature, a properly run and managed practical shooting event makes cheating NEARLY impossible. You cannot cheat the clock, you cannot cheat the target score, and when the course judges and scoring judges are doing their jobs properly, you cannot cheat anywhere else either. Trust me.. If you are at an event I am hosting, ALL judges will be doing their jobs properly.
Because of this, you can compete with your friends, teammates and even your rivals. To see how good you really are, and to even win prizes. The key thing is, the best way to make yourself improve your skill, is to have someone to compete against. Measuring your skill against your own expectation is one thing, measuring your skill against another, possibly one that IS better than you, is bound to make you push yourself to improve.
So the answer to the question "Why practical shooting?" is: Because its fun, it will improve your weapon handling skill, it will increase your safety awareness, and finally, for the bragging rights.
What you will need:
1.) A well cared for and maintained Airsoft Replica*. Either a GBB, an AEG or a Revolver.** I say well cared for because at a TAPSS event if your gun malfunctions while on the course, you are expected to SAFELY fix the problem and continue. You DO NOT get a do over. If your gun malfunctions and cannot be immediately brought back to working order your run will be terminated and you will recieve a DNF (Did Not Finish) for that stage. This means that if you don't know how to properly maintain your replica, you better learn how to before you start practical shooting.
Enhanced TAPSS Weapon Classes:
Stock GBB Pistol - This class consists of GBB pistols that are unmodified from the original manufacturer's design. Any gas type can be used. Stock GBB Pistols may NOT have optics installed. Only combat style or service style holsters can be used in this class.
Unlimited GBB Pistol - This class consists of GBB pistols that have been modified in any way beyond original manufacturer's design. Optics are allowed. Any holster type can be used. Any gas type can be used.
AEG and Gas SMG - AEG and Gas SMG users can only fire in semi auto on the course. Any AEG and any Gas SMG can be used, regardless of modifications or attachments. All AEGs and Gas SMGs must have a sling or other retention device. Standard or low cap magazines are recommended.
Revolvers - This class is for those airsofters that are loyal to revolvers. This class will have its own course set up outside of the primary course. Revolver users must request a Revolver course at least two weeks ahead of time, and must show that at least two shooters will be present to shoot a revolver course. If a revolver course is requested and and not enough revolver users show up to the event, that revolver user will not be able to request a revolver course again. I know that is extreme, but custom courses take extra time and extra work.
* Currently, only GBB pistols, AEGs and GBB sub machine guns are planned to be accepted in Enhanced TAPSS events.
2.) A weapon retention system. As it says in the Weapon Classes listed above, you will be REQUIRED to have a hoster, sling or weapon retention system. As NEARLY all courses start with the shooter at rest (meaning your weapon is NOT in your hand) you NEED a holster sling or weapon retention system.
3.) Extra magazines and a magazine pouch. Because all Enhanced TAPSS courses will have at least one mandatory magazine change designed into the course, you will NEED to have at least one EXTRA magazine, and a proper magazine carrying pouch. Pockets are simply not good enough.
4.) Eye Protection. consisting of impact rated safety or shooting glasses with peripheral protection (wrap around). Full seal goggles are not required but feel free to wear them if you wish. For those of you that wear glasses but cannot wear contacts, you MAY be allowed to use your prescription glasses IF they have peripheral protection. Otherwise you will have to wear OTG goggles. All eye protection need to be ok'd by event staff prior to use.
5.) BBs and Gas, or batteries. While it MAY be possible that a retailer will be on site to provide these consumables, don't ever count on it. Bring your own.
6.) Shoes or boots. With good tread remaining. (We don't want you slipping on any loose bbs at indoor events) I recommend you wear combat boots or tactical footwear. Tennis shoes not only look silly in a practical setting, often tennis shoes do not provide proper traction on a floor that may have loose bbs around. If you MUST wear Tennis shoes, I will alow it, but expect dissaproving frowns.
7.) Dress Code: Airsoft Specialists hosted events have a dress code consisting of several choices:
A.) Combat Casual: A BDU pant with matching solid color Tshirt or Team Tshirt tucked into pants.
B.) Dress Casual: Slacks or Khakis with a Solid Color Tshirt or Polo, OR team Tshirt or Polo.
C.) Bussiness Casual: Slacks with Button Down shirt or Polo, optional Concealment Garment (sport coat or similar)
ATTENTION: Other TAPSS event hosts may be lenient with this dress code, but if I am hosting, the dress code will be firmly enforced.
8.) A little extra cash: Some event hosts may do things differently, but considering the cost of the target papers, I often cannot afford to provide papers for practice runs or fresh papers for all competition runs. If you will want to use fresh target papers for every run, bring a few dollars cash to pay for extra papers. Otherwise free target dots will be provided so you may re-use targets included in the registration cost.
What are the safety rules?
1.) ALL airsoft replicas MUST be transported to the event in a hard pistol or rifle case. NO EXCEPTIONS.
2.) ALL persons in the course area, Competitors, Judges or Spectators, MUST wear eye protection at all times.
3.) Only one competitor is to have thier replica loaded and on thier person in the course, during any practice or competition round. Loaded refers to having a magazine in the magwell, whether it has bbs or not, whether it has gas or not.
4.) No bb shall be loaded into the breech before starting a shooting round. You must not rack your slide until you are at the starting line of the course.
5.) Replicas must be in a "Safe Mode" while shooter is standing ready to begin a round. This is any method by which you can make your replica so that the trigger cannot be engaged until you are ready to shoot. Whether it is a thumb safety, a hammer at half cock or whatever your replica has. Replicas that do not HAVE any method for doing this BY DESIGN are exempt from this rule. (Example, KWA glocks which do not have the patented trigger safety installed from the factory) Pistols such as 1911s and 2011s that have functional palm safeties, and pistols that have functional glock trigger safeties are considered in Safe Mode by default when in the holster.
6.) All competitors NOT currently in a practice or competition round must have their replicas unloaded on the "secure replica " table. However, PISTOLS that are unloaded can be secured by safety clip or strap in their holster. "Unloaded" meaning no magazine in the magwell. This means that if you are not currently taking a practice or competition run, ALL your available magazines must be secured on the "secure gun" table. The only exception to this is if the competitor NEEDS to test his weapon. See below.
7.) Weapon testing and troubleshooting. It is STRONGLY suggested that all competitors make sure their replica is in proper working order BEFORE coming to the event. If however, the shooter has reason to believe their replica is NOT in proper working order after taking a practice or competition run. They can use the "Safe Shoot Box" to test their replica's operation. ONLY ONE competitor is allowed to have a replica loaded for the purpose of troubleshooting at any given time.
8.) Unsafe gun handling or other unsafe behavior will result in immediate disqualification with no refund of entry fee. TAPSS operates on a zero tolerance level when it comes to gun safety. If you need help on this matter, I am sure you can find someone to help you learn gun safety basics.
9.) "Finger in trigger gaurd" The only time anyone should have thier finger inside a trigger gaurd is when firing the weapon, on the course, during thier specified round.
10.) No replica shall be loaded until being readied for a round. "Loaded" refers to having a magazine in the magwell, regardless of whether or not it has bbs or gas in it...
11.) Any bb fired outside of the specified course corridor, or in the "safe shoot box" be it accidentally or intentionally, will result in immediate disqualification with no refund of entrance fee. TAPSS operates on a zero tolerance level when it comes to gun safety. If you need help on this matter, I am sure you can find someone to help you learn gun safety basics.
What do the targets look like?
In Enhanced TAPSS we will be using two types of targets. 12X18 inch paper silhouette targets with scoring rings, and metal "popper" targets. While I do have Official TAPSS targets, similar design 12X18 silhouette targets or poppers may be used instead depending on availability.
All available TAPSS silhouette targets:
(Click on Thumbnail to see full size)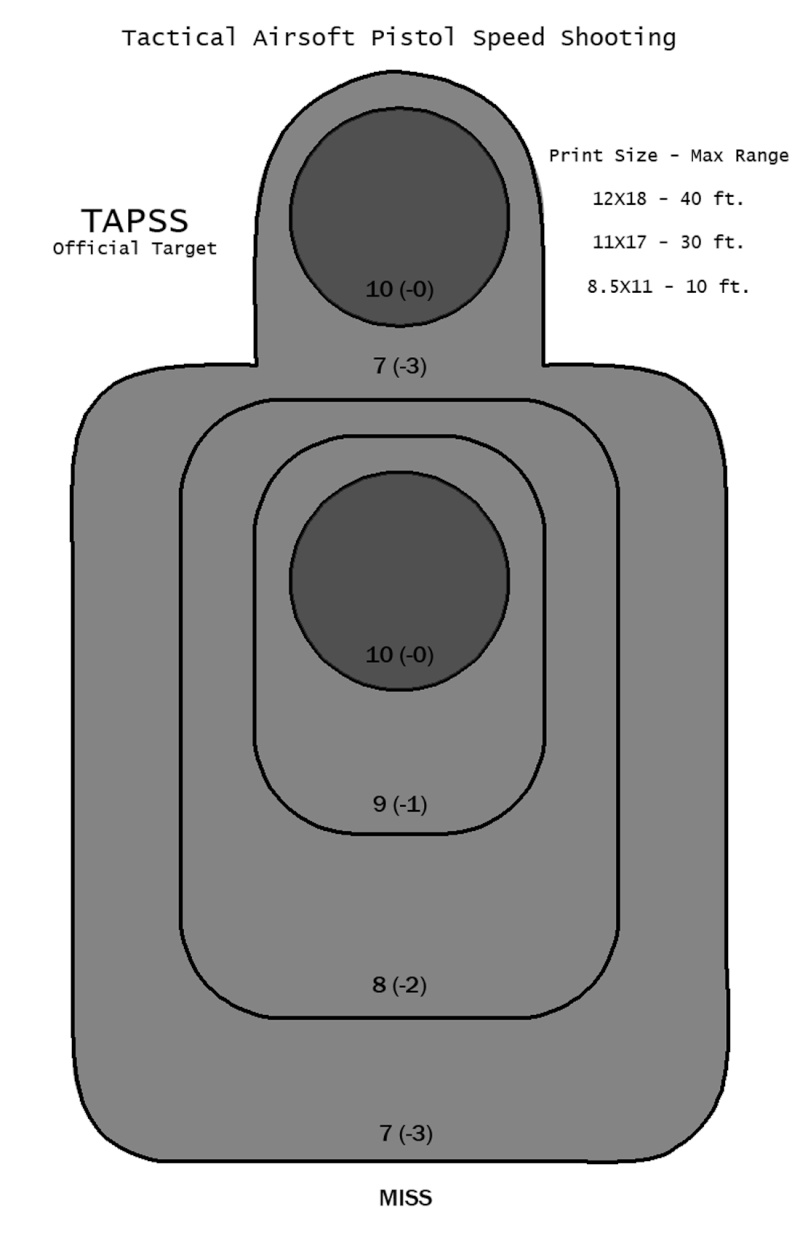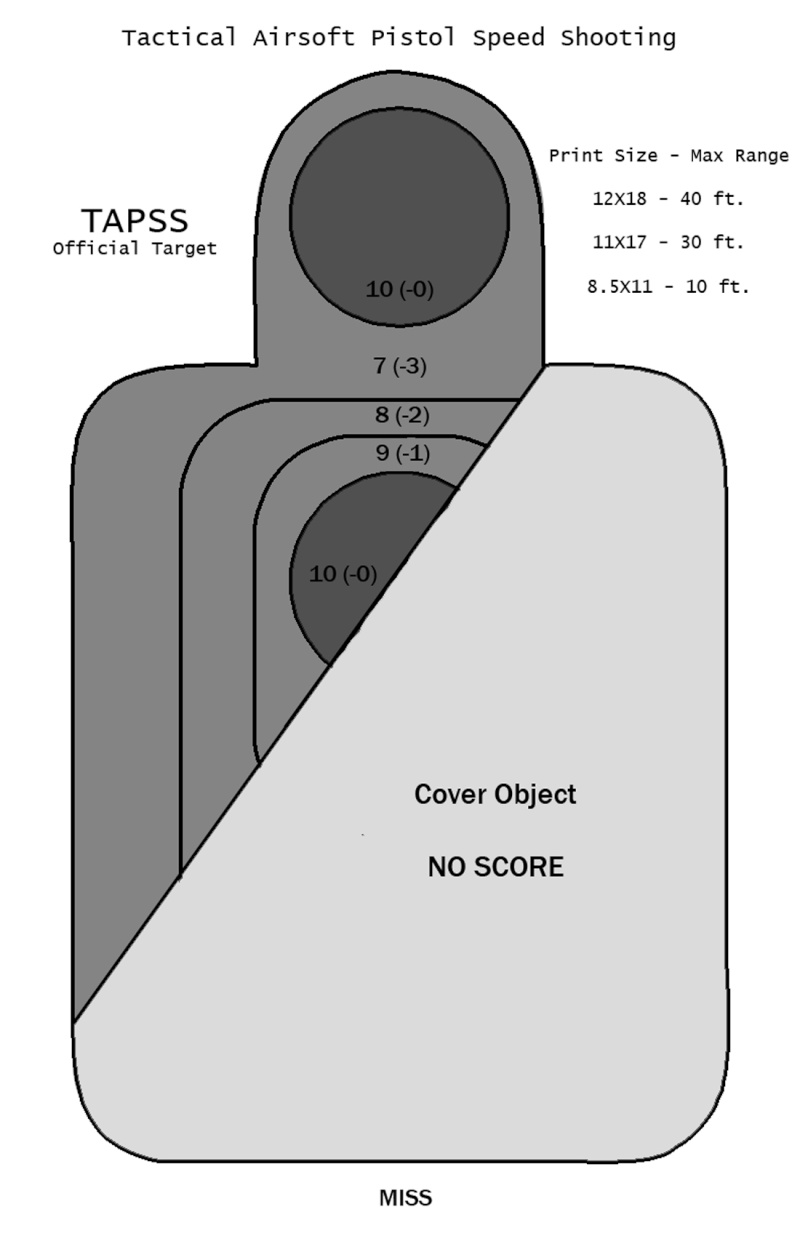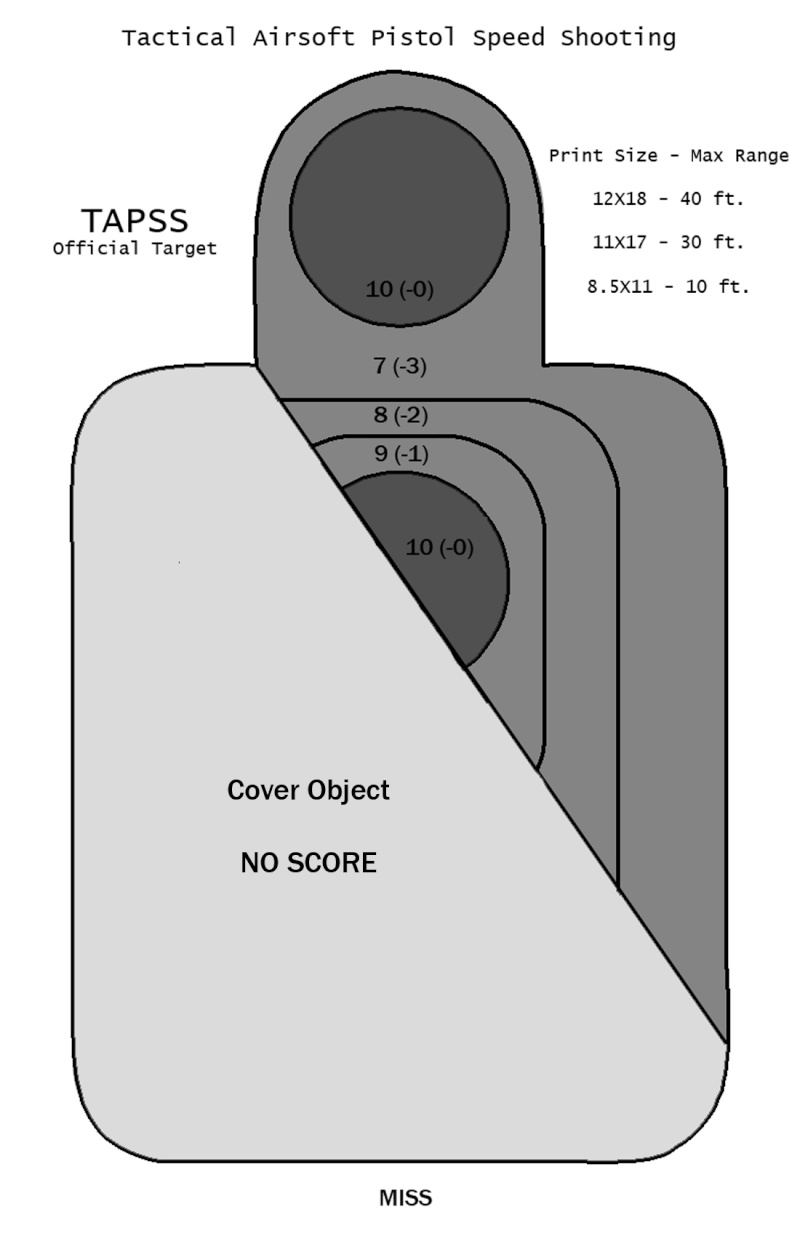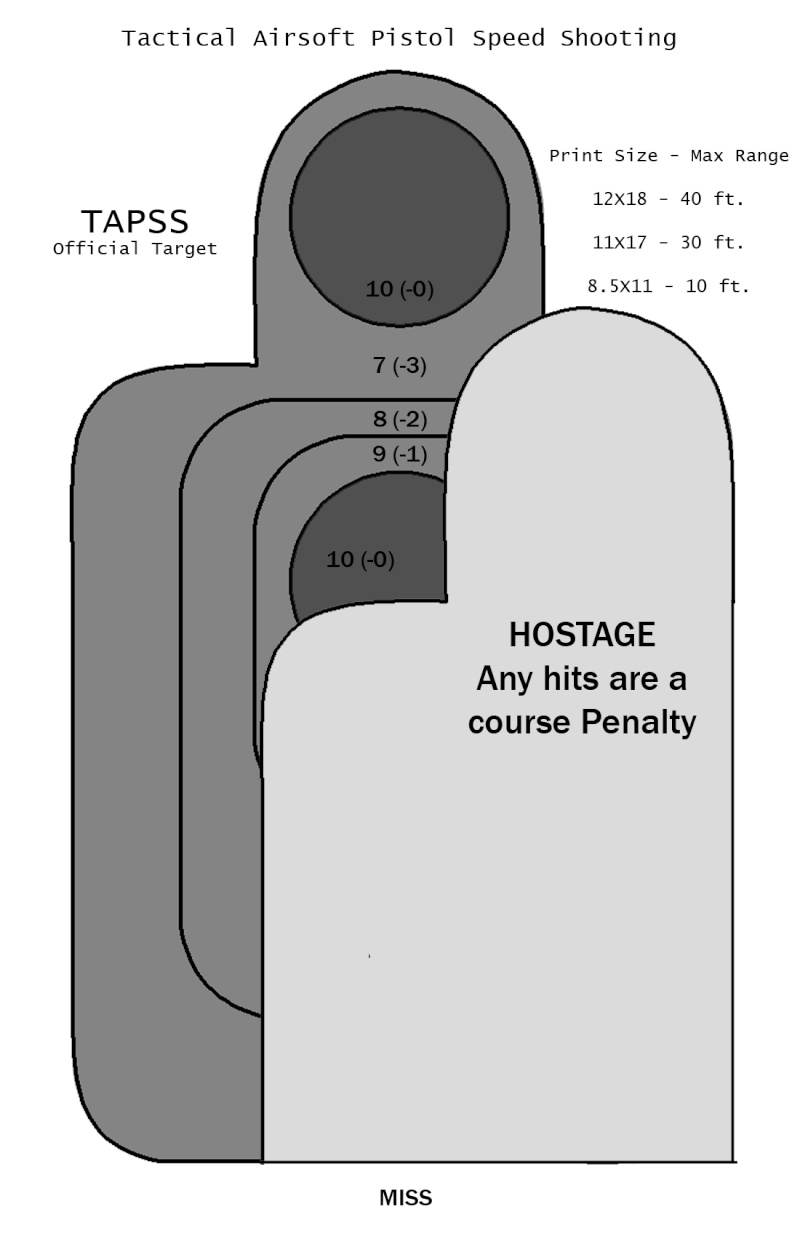 TAPSS Basic (Self explanitory)
TAPSS Cover Object Right Target behind cover to the right, any hits on the cover object are non scoring and count as a "miss"
TAPSS Cover Object Left Target behind cover to the left, any hits on the cover object are non scoring and count as a "miss"
TAPSS Hostage Target with hostage, 3 second course penalty* for every hit to hostage, but they do NOT count as a miss in addition.
The reason for using these 12X18 silhouettes instead of full size full scale silhouettes, is because of the lack of heavy recoil, or in the case of AEGs, lack of ANY recoil in airsoft replicas. It would quite simply be too easy to hit a full size target in the close ranges we are working with.
Enhanced TAPSS poppers: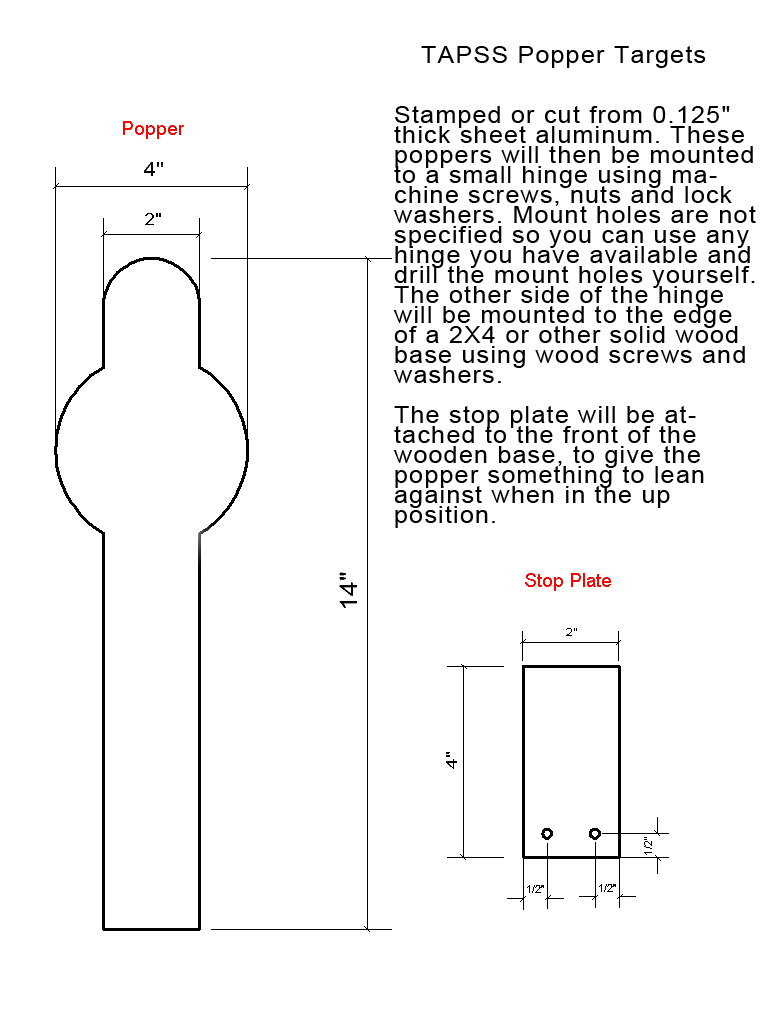 The metal poppers are much smaller than the silhouettes, but maintain a silhouette shape. These poppers represent man sized targets at a further distance. Becaue of their relatively small size they can be arranged at closer distances on the course, but still be a challenge to hit. They are meant only to be knocked down. If you fail to knock down a popper it counts as a type of course penalty*
* Course Penalties will be explained later.
How are the courses set up?
Before I go on, I will give you an example course diagram to look at. The following diagram is an example of the kind of course that can be set up in a 1000 square foot open space. (Click on the image to see the full size diagram)
The wall deviders will most likely be made of PVC frames and sheets. This allows the ability of changing up the room design very easily.
This course should be navigated as such:
From Shooting Station 1: Draw and Fire* 3 shots at target 1, shoot poppers 1 and 2
Move quickly to station 2, lean left keeping 50% cover and fire 3 shots down the long hall at target 2.
Move to station 3, shoot 3 shots at target 3, reload then shoot 3 shots at target 4.
Move into the hall then move and shoot at Target 5
Step into Station 5 and lean right, keeping 50% cover and shoot at poppers 3 and 4
Step into station 6, reload if neccessary then shoot at the stop plate to stop the timer.
This course would have an optimal shot count of between 25 and 30 rounds. Meaning that depending on the determination of the course designer you would recieve penalties if you end up using more than 25-30 shots to finish the course. This makes you endeavor to make your shots count. This kind of penatly is referred to as a FCP (Fire Control Penalty)
On top of Optimal Shot Counts and FCPs, as it says in the course description above, you are supposed to hit each silhouette target only 3 times. If you hit a silhouette target MORE than 3 times, you will recieve a 5 second penalty to your time. You can TRY to hit a silhouette target as much as you want. IE.. if you KNOW you missed it with one of your first 3 shots, you can try again, but if that paper target comes up with more than 3 hits... its bad for your score.
* Draw and Fire refers to both Pistols and AEGs. In the case of an AEG, to "Draw" means to go from "sling at rest" position to "firing position"
How does it all work?
Safety Briefing: First things first. At the start of the event, either the event coordinator or the safety judge will give a mandatory safety briefing. They should cover all the points listed above and any other points mandated by the venue owner.
Course Briefing: The course judge will explain the course from start to finish. If a course map is available the judge can use that as an aid, but the course judge should also give a walk through, showing each shooting station, each approach and each shot angle or required element to the course. The course judge should also specify what parts of the course are most likely to result in a course penalty if taken incorrectly by a shooter.
Practice Rounds: IF time permits practice rounds for ALL shooters, the event coordinator can propose a single practice round. This practice round will allow all shooters to run through the course, timed and scored just as if it were a competition round. Scores from this practice round are NOT used in the final winners tally, regardless of whether or not a score in this practice round is better than any competition round. This practice round will give the competitors experience to mold and modify their tactics and techniques to improve future competition runs. See the Pre through post round sequence listed below.
Stages: The event coordinator should determine, based on the number of participants in the event, how many stages (competition rounds) they will have time for. Ideally every competitor should have at LEAST 2 stages.
Finals Rounds: If time permits, and ALL competitors agree BEFORE the competition starts, there MAY be a single finals round in which the top 5 competitors after the primary competiton rounds will have finals round. Finalists will have thier spot in the top five guaranteed, but they throw out their previous average and shoot one more stage to determine thier place in the top 5.
Pre through post round sequence: (Whether a Competition or Practice round)
1.) The Safety Judge clears the course path of any loose bbs or other obstructing materials. All targets for each shooter must have the shooter's name written on them before their run. The target judge puts up the shooter's targets and any target enhancements, then resets all poppers.
2.) The current shooter gets into position at the start station, racks his slide, places his weapon in a "Safe Mode" (See safety rules above) then holsters his weapon. Any holster retaining strips or clasps can remain open if possible. The shooter states he is ready loud enough for all judges to hear.
3.) The Course Judge asks "Shooter Ready?", the shooter verfies by saying " ready". The Timing judge then starts the timing device and says "Begin" loudy and clearly unless the timing device used has an audible start tone.
4.) On "Begin" the shooter begins his/her run, following the course as described by the course outline and event coordinator. The course judge follows the shooter through the course close enough behind to count shots and see any course penalties.
5.) After the last shot is fired and the timer is stopped, the course judge says "mag out" and the shooter removes his magazine and places it in a pocket or drop bag. The course judge then says "weapon clear" and the shooter must clear their breech and show the course judge it is clear. (Barrel rods should be provided)
6.) The Shooter secures his pistol at the gear table.
7.) The Target Judge marks the targets with the shooters course time, any penalties incurred, number of missed poppers and his own initials.
8.) The scoring judge counts up the total target score of all the shooter's targets, then using that score, calculates the final score, either manually or by use of a scoring spreadsheet. (See Scoring rules below)
How are we scored?
We will be using a modified "Limited Vickers Count" Scoring. If you arent concerned with how it is scored, thats up to you, but it is better if you know exactly what effects what in your score.
The score is based off of the RAW time it takes to complete the course, and any penalties incurred. Possible penalties are:
1.) Points down: Each course has a maximum possible point score. For every point UNDER that maximum score, you add .5 seconds to the shooters time.
2.) Extra hits on Silhouttes: For each hit to a silhouette target beyond 3, you receive a 5 second penalty. When scoring targets with multiple hits the highest scoring hits are not counted for each extra hit)
3.) Missed Popper Targets: For every popper target that is not knocked over by a shot the shooter recieves a 3 second penalty.
4.) Fire Control Penaties: For every shot over the Optimal Shot Count, the shooter recieves a 3 second penalty.
5.) Course Penalties: For each course penalty, 3 seconds will be added to your time. Possible course penalties are: Firing out of position, not being appropriately covered when firing from cover objets, hitting a hostage target enhancement (other course penalties may be added at a later date)
Hints and Tips:
The rest of this document is only extra stuff. You dont NEED to know anything else from here down. If you have read and understand everything ABOVE this point, you should have no problems participating in Enhanced TAPSS events.
Stock Pistol Class weapon choice:
Historically, the stock pistol class has had many different brands and models of replicas on the winners podium. Those that have been known to work well though are (In no particular order)
KSC and KWA Glocks
KSC and KWA USPs
KJW Sigs (P226 and P229)
TM HiCapa 5.1 or 4.3
Western Arms SVI
While it IS true that someone using a WEitech HiCappa HAS won a TAPSS event, that was an isolated case. History has proven that WEitech/PHX brand Hicapa's are VERY prone to problems, be it slow cycle time or bad gas efficiancy.
I am NOT saying that you should only pick those I have listed above for use in Stock class Practical Shooting. Far from it. The things you want to consider in choosing a GBB pistol for use in Practical Shooting are this:
Fast Cycle speed: The faster your slide cycles, the quicker you can get your shots off and move on through the course. This means that with stock pistol class, PLASTIC slides are most often better in practical shooting. It is this reason I do not recommend WE guns, HFC full metal guns, or any other guns that are sold with the marketing terms "FULLl METAL". Those pistols that are sold as full metal, are often made with heavier metal than any UPGRADE metal slide for a higher quality pistol. These overly heavy metal slides cause slower cycle time, even when using CO2, and also causes more recoil, which causes you to stray further off target with each rapid fire shot. Which brings me to the next item:
Lower Recoil: While it is true that I, and many like me love GBB's for the slide action and recoil (however minimal) they provide, LESS recoil is better in Practical Shooting. This means that in stock class, your best choice of pistol will be one with a metal FRAME and a plastic SLIDE. The metal frame provides more weight, increasing stability, while the plastic slide provides a fast, low evergy recoil that is easy to recover from in rapid fire. The most well known Stock pistols that come this way are the Western Arms SVI's and the TM HiCapa's. Metal frames, Plastic slides.
Availability of holsters: In stock class, you are limited to what would be considered a combat style or service style holster. I am told that some of the best holsters are Paddle Holsters and SERPA holsters. Due to their nature these types of holsters only come designed to fit standard gun shapes. This means if you want to use the fancy SERPA or Paddle style holsters, you will need to use a pistol that is a common service pistol, (meaning no SVI's or HiCapas) Otherwise, any thigh or belt holster you can find to fit your pistol will do.
Magazine Capacity and number of magazines: Enhanced TAPSS has at least one required magazine change on every course. Courses are designed to have the first reload station at or around the point where you should have fired no more than 15 shots. This shot count was chosen due to the fact that many 1911 frame pistols are limited to 15+1. Before or after this point reloads may be up to you to decide where they should be done depending on how much you need to shoot to achieve all the required hits. Therefore I recommend a pistol with at least 20 round magazines. If you DO choose a pistol with a 13 round magazine, then I recommend you have at LEAST 3-4 magazines and pouches to carry them.
A note about "mods" allowed on Stock Class GBB Pistols: There is ONE modification that can be made to a stock class pistol. After Market IRON sights, for the purposes of TAPSS, are not considered an Unlimited modification. Therefore "Stock" pistols CAN have after market iron sights added. I realize that many pistol's sights are terrible, and many times are replaced on their real steel counterparts, even on service pistols. So this "mod" I will allow on stock pistol class GBB. Think of it as my gift to the stock class.

Weapon and gear advice:
If you are planning to use the Enhanced TAPSS system only as a weapons training system, your choice of what weapons to use is simple. You simply use whatever weapons and gear you would use in the field. Meaning the same rifle and/or pistol, the same sling or holster, the same magazine pouches etc.
But if you are engaging in Enhanced TAPSS for the sake of competition, what gun and what gear you choose is slightly more critical, and you will need to approach it with more care as your skills, and your opponenent's skills improve. Not so much so for the stock pistol class, but for the unlimited class and the AEG class, what you use in competition CAN effect the outcome greatly.
You've heard it before... "It's not the gun, its the shooter". Well think about this. If both shooters are equally skilled, why does shooter A always beat shooter B? Probably because of his gun and gear choice. While the accuracy of Airsoft guns is not so precise as real steel, a better gun does still shoot straighter, faster, and with more consistancy than a bad one.
Things to think about with Stock Pistol Classes:
Barrel Length and Slide Weight: Without side by side testing and comparison, I obviously cannot without a doubt state that a 6 inch barrel is definitely more accurate than a 3.9 inch barrel. But common sense suggests that the longer barrel provides the bb with a more stable flight path.
While a longer barrel may be desired, you should think also about slide weight. A full metal 6 inch pistol like a WE 6 inch HiCapa is apt to cycle slower than a Marui HiCapa 5.1, due to the difference in the slide weight. Because speed is a key point in ETAPSS, the faster you can get your shots off, the sooner you can move to the next target. So think about this while choosing your pistol.
If you have several pistols, you may also want to decide which pistol to use in a particular competition, based on the average ranges to target. IE, In a course with mostly short range targets (10-15 feet) and one long range target, may benefit from the use of a compact carry pistol, which will shoot faster due to its low slide mass.
Proper handgun grip: There are many schools of thought on how you should hold your pistol. The one I prefer to follow is mentioned HERE in the POR (Pistol Only Revolition) Article. But the key thing is, if you can't hold your gun properly, you're going to have a harder time shooting straight in rapid fire. Make sure your pistol fits your hands.
Holsters. Your timer starts before the draw. This means the sooner you can get your pistol out of it's holster and on the first target, the better your score may be. So keep this in mind when you choose a holster. If you have longer arms, a drop thigh holster may be better for you than a belt holster, but remember that ready position requires that you start with your hands in the air... so the time it takes to go from ready to your pistol may also be important... this suggests a belt holster may be better. It's a delicate balance, and only you can decide which you should use.
Magazine capacity is another thing you will want to think about. We know that there is ALWAYS at least one mandatory magazine change in ETAPSS. A good course design will have the first mag change drop box somewhere around the estimated location for 15 shots fired. (This is done so those using 15+1 1911's can make it to the first reload drop box). BUT... what if you need to take more than 15 shots to knock down all poppers before the drop box? If you are using a 15+1, you will need to reload sooner, and without the drop box, you will want to do an RWR (Reload With Retention) rather than drop your mag to the hard floor. These reloads can take significantly longer than a drop reload. Now... What if you've already made your mandatory realod, and you end up needing to reload again before the end of the course or the next drop box? The FCPs (Fire Control Penalties) aside, this means you may need to do another RWR... costing even more time. What does this mean? I personally would suggest you choose a pistol with more bb capacity rather than less. The 30 round double stackers of the 2011 frames SVI's and HiCapa come to mind. But even a 20 or 25 round is better than the 15+1 single stacker 1911's. (I might consider making a single stacker class, if TAPSS gets popular enough)
Magazine POUCHES. As has already been mentioned, speed is key. In the Stock Pistol Class, you are limited to using gear that is of tactical or service nature. This meaning your mag pouches must not be "speed pouches" There are many different designs of service mag pouches to consider though, some faster to pull from than others. Keep this in mind.
Things to think about with AEG class:
I am no expert at AEG's or their use. For the most part I would think that shot accuracy will be the least of your problems in the ETAPSS AEG class. What you need to think about for your choice in AEG for ETAPSS is:
Rate of fire in semi auto mode. As you should know by now, you cannot use full auto fire in ETAPSS. BUT, ROF is still important, in that you still need to be able to get your shots off as fast as possible in semi auto mode. I don't know any more, but it used to be that the fasted cycling stock AEG's were those that used the Version 6 gearbox. So a P90 or Thompson may do weel. However, there is no limitation on upgrades for AEG class. The faster your AEG can cycle and the faster the reaction from trigger pull to shot time, the better it will be in ETAPSS.
Ergonomics and manueverablitly. Many if not all ETAPSS events will be focused on a close quarters layout. There will be a lot of corners to navigate, a lot of lean and fire shots, and a lot of multiple target shooting locations. This means the smaller your profile is, the easier you can navigate tight courses, and the lighter your AEG is the faster you can change lines of fire. Think about this when you choose your AEG for ETAPSS.
Sight picture. Picture this, your standing with your arms up, and your AEG slung to a chest harness. You have 4 different targets in front of you at the first shooting station. One is a sillhouette which requires 3 hits to the paper, and the other 3 are poppers that just need to be knocked over as fast as possible. Now, think about this, when you are aiming at the first target with your AEG... can you still see the other 3 in your periferal vision? I would hope so, cause your going to need to change your LOF fire and shoot them each in turn as fast as possible to get the best time. Think about this when you choose your AEG and/OR your optics.
What makes a GBB fall into the Unlimited Class?
The following modifications would kick a pistol up to Unlimited, other modifications not on this list would most likely also make a pistol be in the Unlimited class, when in doubt, either just shoot in Unlimited or ask me about it directly.
*Sight Rail and/or Optics of any kind.
*After Market Slides
*After Market Tight Bore Barrels
*After Market Valves
*After Market Hammers
*After Market Triggers
*After Market Springs (Recoil, Hammer, Trigger etc)
*After Market mag wells (If the gun came with a mag well stock, fine, but if it didn't, adding one will kick it up to Unlimited)
*ANY after market part that would effect the muzzle energy or cycle speed of the pistol.
*ANY custom modification that would effect the muzzle energy or cycle speed of the pistol.
There are Caveats, for example, any after market part that is simply a direct replacement, and is identical to the original part it is replacing.. would NOT be considered a mod... only a part replacement.